Newsletter Feature Block
Be featured in our newsletter to over 48,000+ subscribers!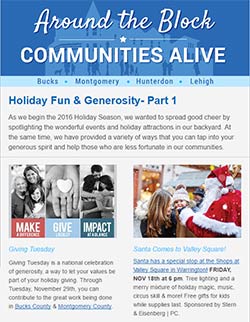 Every month we send out a community newsletter to local individuals and businesses. The issues spotlight unique aspects of our community, and give readers information about cool events and useful online resources. Our newsletter is viewed as a valuable community resource which is why our unsubscribe rate is very low.
Our newsletter contains 4 to 6 story blocks, each with a photo, a couple of sentences of text, and links to your website and/or social media outlet. You can sponsor one block in a single issue for $495.00. Use that block to advertise an event, sale, promotion, new service, award, etc. Let us help you spread your message. Click here to see an example of a feature block - see Santa Comes to Valley Square.
Please note that there are limited opportunities to participate in this program. For questions and availability, contact Mary Ann at 215-340-7692 or maryann@buckscountyalive.com.